EzClipse is a clean solution for addressing light fixture corrosion.
If you live by the ocean, you might have recessed lights with rusted rims. That's a real bummer, but don't worry: We can help with that!
The salty air can force you to update your light fixtures when they get damaged. However, some methods are difficult or time consuming. Instead of worrying about expensive coatings, why not look for lighting covers that are simple, effective and won't degrade? EzClipse is an excellent way to remodel an ocean-view house and keep it looking great within some very simple steps.
Easy installation
From the moment you purchase the EzClipse, you'll start to see how easy it is to set it up in your home. Though the installation process differs slightly with each model, all are easy to install and will take minimal time to set up. The magnets cut out all of the messy work you would have to do with other, traditional fixtures.
In other words, forget the screwdrivers and drills. You can set up our lighting without any fuss or extra tools.
"Even without other hardware, the EzClipse will stay securely in place."
Even without all that other hardware, EzClipse will stay securely in place, and are durable enough to withstand tough weather. This doesn't just include salt air damage, but strong winds and other natural hazards as well.
Don't believe us? Check out our installation page here. If you're looking for a long, complicated list of steps, you're going to be disappointed: Our video is less than two minutes long for a reason.
Fast access for maintenance
With most lighting, regular cleaning is a must to get rid of salty buildup and moisture. Ideal Home Garden goes as far as to suggest cleaning daily to keep the exterior clean for any home within 3,000 feet of the ocean.
EzClipse is as simple to remove as it is to install, and that gives you more ways to adjust and clean it. You'll also have an easier changing the light bulbs without worrying about anything falling on you!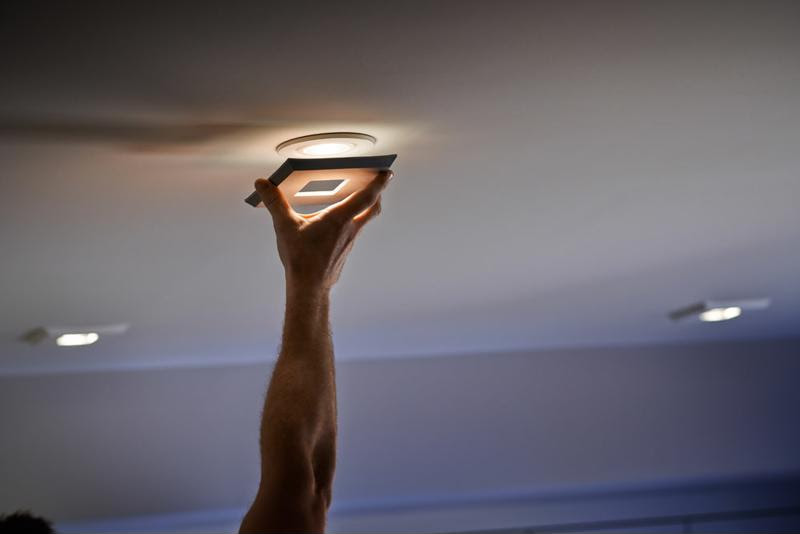 Great, adaptable styles
It's not enough to just choose any old recessed light cover. A seaside home can have a unique charm to it, and your lighting should, too! A lot of beach houses use lighter colors, like bright blue and white, and that makes proper indoor and outdoor lighting an important feature. You can choose stylish rounds and squares from our Low Profile line to set up a relaxed atmosphere around your homestead—and isn't that what a home near the water is all about?
There are other style options to pick from, too. Want to add something more dynamic to the ceiling? Try a metallic shade to add some intricate design patterns, or a red shade for a bold splash of color. You get the same easy install and high quality no matter which one you choose, so why not go nuts? 
Whichever one you choose, you'll get a 5-inch piece that adds a comforting texture to the home. Place the cover without anything getting in the way and replace the old rusty fixture in a snap. You'll be surprised how quickly the EzClipse becomes a part of your home.
Works well with your home
We've already mentioned how easy it is to install EzClipse, but they also work well with virtually any surface. Because they simply fit into position, there's no worry of scuffing or scratching the ceiling. Our Low Profile Line of recessed light covers, in particular, will blend into their surroundings, whether you choose the 5- or 8-inch models. These are especially good for those who aren't used to "flipping" a home or making dramatic changes.
Since they come in packs of six, they make a great choice for addressing a series of several different lights all at once. Neglect your home for too long and your lights can get really rusty, really quickly. Knowing that you have all that you need in a single package can make it easier to plan out other renovations.
Once in place, the product will stay put even when there's a great deal of motion around. You'll be left with a section of the house that looks great and feels natural.
Better Value for money
Finally, EzClipse offers a cost-effective way to make some necessary home improvements. In addition to the affordable products themselves, we offer free delivery for orders above $89, giving you another way to save. When you have rust, you need a quick solution, and we'll help you get one.
Ready to hear more? Contact us and start beautifying your waterfront home today!
CATEGORIES
DIY Tips
KEYWORDS
http://www.ezclipse.com/pages/frequently-asked-questions, http://www.idealhomegarden.com/home-improvement/beachfront-property-maintenance/, http://www.fao.org/docrep/v5270e/v5270e08.htm